Douala airport : customs formalities
Since 1 January 2018, all passengers departing and arriving on international flights at Cameroon airports must complete a standard form for the declaration of their personal effects and accompanied luggage. This is reflected in the note signed on December 26, 2017 by the Director General of Customs, Fongod Edwin Nuvaga. Entitled "Customs Declaration", the form which is put in service in the tourist brigades of the international airports of Yaoundé-Nsimalen and Douala, resumes in a first part information concerning the flight (number of the flight, date of arrival and boarding) and the traveler (surname and first name, profession, nationality, date and place of birth, address in Cameroon).
This form includes in a second part a list of prohibitions, restrictions and customs exemptions applicable to air travelers. Prohibitions include narcotics, firearms, gun powders, explosives, counterfeits and any pornographic object. Regarding the restrictions, the form speaks of hunting weapons, swords, live plants and animals, protected wild animal and plant species, etc .. Tobacco 500g, cigarettes 400g, cigars 125g and drug whose treatment does not exceed 3 months are part of the "franchises". The last part of the form concerns commercial products such as gold, silver, goods exceeding the deductible, and goods entrusted by a third party. Henceforth, any non-resident traveler must declare the amount of his currency exceeding one million (1,000,000) CFA francs. Finally, the note from the Director of Customs states that the traveler is required to declare all items purchased or acquired abroad. Any misrepresentation or failure to report entails penalties provided for by the regulations in force.
Contact
Website: www.douanes.cm
E-mail: douanes-cam@minfi.gov.cm
Information: Tél : +237 222 20 25 31 / +237 222 20 25 32
Tue 3rd Oct PM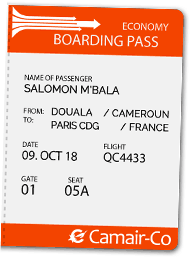 Log in

Contact us

About

2013-2019 Aeroport-Douala.com.