Maps of Douala airport
Douala International Airport is located south of the economic capital of Cameroon. The entire airport area covers an area of 6.20km² for a total perimeter of about 19km.
Thanks to a strategic interchange, it enjoys rapid access from the north (Aviation Highway) and from the east and west via the national road No.3.
WEATHER IN DOUALA

Temperature: 25°CModerate or heavy rain in area with thunder
Humidity: 89%
Wind: S at 9km/h
Detail & forecast
Fri 6th Aug AM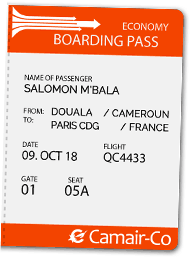 Log in

Contact us

About

2013-2019 Aeroport-Douala.com.