Maps of Douala airport
Douala International Airport is located south of the economic capital of Cameroon. The entire airport area covers an area of 6.20km² for a total perimeter of about 19km.
Thanks to a strategic interchange, it enjoys rapid access from the north (Aviation Highway) and from the east and west via the national road No.3.
Tue 3rd Oct PM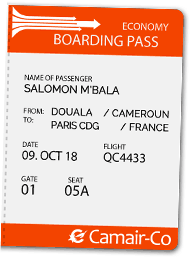 Log in

Contact us

About

2013-2019 Aeroport-Douala.com.