Destinations : Douala > Istanbul Airport
| Airline | Flight | Destination / Origin | Day | Time |
| --- | --- | --- | --- | --- |
| | TK667 | Istanbul Airport (ISL:::TR) | Monday | 23:13 |
| | TK667 | Istanbul Airport (ISL:::TR) | Wednesday | 23:25 |
Disclaimer: the above timetable is given as an indication. Furthermore, codeshared flights may not be displayed.

publicité ?
WEATHER IN DOUALA

Temperature: 33°CModerate or heavy rain in area with thunder
Humidity: 56%
Wind: WSW at 9km/h
Detail & forecast
Tue 11th May AM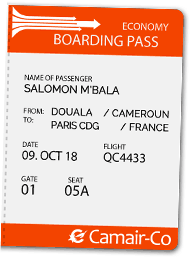 Log in

Contact us

About

2013-2019 Aeroport-Douala.com.